#8
Szentendre - Сентандреја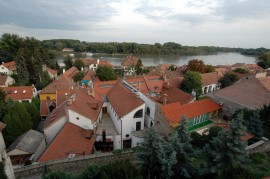 "Tudjßtok, merre van Szentendre? Ez a kisvßros a Duna jobb partjßn fekszik, Buda, Visegrßd Ús Esztergom k÷z÷tt ... Gy÷ny÷rű tßj! A vßroska el§tt a Kis-Duna, szemŘnk el§tt termÚkeny falvakkal teleszˇrt sziget: azon t˙l a Nagy-Duna, amott egy rˇmai k§hÝd maradvßnyai. A vßroska m÷g÷tt Ús bal oldalßn csupa sz§l§skert, meg gy÷ny÷rű hegyek ... Aztßn az a szÚp v÷lgy Szentendre, Pomßz Ús Buda k÷z÷tt, mint valami ˇrißs amfiteßtrum ... Gy÷ny÷rű tßj, gazdagsßg, jˇ bor, pompßs vÝz. Akarsz ennÚl t÷bbet?"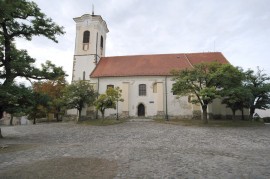 T÷bb mint szßz Úvvel ezel§tt Ýrta ezeket a sorokat Ignjatovics Jakov szŘl§vßrosßrˇl. A mediterrßn hangulat˙ tßj szÚpsÚge nem csak Jakovot nyűg÷zte le, hanem a rˇmaiaktˇl kezdve napjainkig mindenkit. A Dunakanyar kapujßban, a Pilis Ús a Duna talßlkozßsßnßl, a Szentendrei-szigettel szemben talßlhatˇ Szentendre. RepŘljŘnk vissza az id§ben 1800 Úvet! Akkor a mai turistßktˇl nyŘzsg§ ˇvßros helyÚn rˇmai kori villßk sora ßllt. Szentendre sajßtosan mediterrßn hangulatßt az elm˙lt Úvszßzadok folyamßn idetelepŘlt szerb, dalmßt, szlovßk, nÚmet Ús g÷r÷g telepesek kult˙rßjßnak izgalmas keveredÚse alakÝtotta ki. Ennek az id§szaknak az emlÚkeit a vßros dÚlies hangulat˙, barokk stÝlus˙ polgßrhßzai, templomai, macskak÷ves utcßcskßi, szűk sikßtorai §rzik. A vßros k÷nnyen megk÷zelÝthet§ autˇval, H╔V-, autˇbusz- Ús sÚtahajˇjßratokkal. Ez is hozzßjßrul, hogy Szentendre nagyon kedvelt kirßndulˇhely; Úvente t÷bb ezer turista Úrkezik ide a vilßg minden tßjßrˇl. Sok budapesti vßlasztja ˙j otthonßnak a kisvßrost. Ez a hely ugyanis elÚg tßvol van Budapestt§l, hogy maguk m÷g÷tt hagyhassßk a f§vßros zs˙foltsßgßt Ús zajßt, de elÚg k÷zel, hogy ott vßllaljanak munkßt, vagy intÚzzÚk Řgyeiket.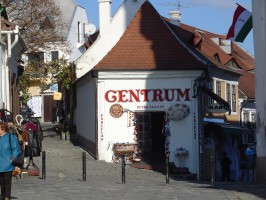 Szentendre a művÚszetek Ús m˙zeumok vßrosa. A nyugodt kisvßros a szßzad eleje ˇta vonzza a művÚszeket. T÷bb mint kÚtszßz kÚpz§- Ús iparművÚsz, valamint Ýrˇ, k÷lt§, zenÚsz Ús szÝnÚsz Úl Ús alkot a vßrosban. Id§z÷tt itt pÚldßul Kassßk Lajos, Vas Istvßn, Hamvas BÚla Ús NÚmeth Lßszlˇ is. SzentendrÚn az egy f§re jutˇ m˙zeumok szßma orszßgos szinten is kiemelked§en magas. Szßmos m˙zeum Ús galÚria mutatja be a vßros gazdag m˙ltjßt Ús pezsg§ művÚszeti ÚletÚt. Sok a magßnkÚzben lÚv§ m˙zeum, ahol neves helybeli művÚszek tßrlatait tekinthetjŘk meg; a MűvÚszetMalom KÚpz§művÚszeti Ús Kulturßlis centrumban szßmos id§szaki kißllÝtßst rendeznek. SzentendrÚn talßlhatjuk a Ferenczy M˙zeumot, a Barcsay GyűjtemÚnyt, Czˇbel M˙zeumot, Kmetty Jßnos EmlÚkm˙zeumot, a Kovßcs Margit KerßmiagyűjtemÚnyt, vagy a Rˇmai K§tßrat. Az Ýnyenceket olyan kŘl÷nleges kißllÝtßsok vßrjßk, mint a GyÚmantm˙zeum, a Dobos ╔dessÚg tßrlata, a Gasztro- Ús Italm˙zeum (Csokim˙zeum), a Lßmpam˙zeum, az ▄vegm˙zeum, a Babam˙zeum vagy a Magyar t÷rtÚnelmiÚkszer-kißllÝtßs. Ezek k÷zŘl is kiemelkedik a Szamos Marcipßn M˙zeum Cukrßszda, az orszßg els§ marcipßnokat bemutatˇ m˙zeuma. A marcipßnmunkßk k÷z÷tt ismert szemÚlyisÚgek alakjai, művÚszien dÝszÝtett eskŘv§i tortßk, rajzfilmfigurßk Ús mßs Údes hÝressÚgek, valamint a 160 centis marcipßnbˇl megformßlt Parlament is lßthatˇ.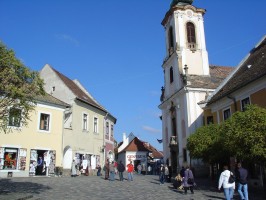 Az 1967. februßr 1-jÚn alapÝtott SzabadtÚri NÚprajzi M˙zeumban sÚtßlva igazi id§utazßsban lehet rÚszŘnk. A kißllÝtßs 55 hektßron Magyarorszßg nÚpi ÚpÝtÚszetÚt Ús a hagyomßnyos nÚpi Úletmˇdot mutatja be, kÚzműves bemutatˇkkal, folklˇrműsorokkal, szÝnhßzi el§adßsokkal kÝsÚrve. A parasztudvarokban, a lakˇ- Ús gazdasßgi ÚpŘletek, műhelyek, korabeli templomok k÷z÷tt sÚtßlva a lßtogatˇ ˙gy Úrezheti, mintha az eredeti falvak nyŘzsg§ ÚletÚbe cs÷ppent volna vissza. Bßmulatos ÚrzÚs dÚdanyßink, Řkapßink vilßgßban kalandozni. Mßra mßr feledÚsbe merŘlt vagy ritka mestersÚgekkel, a kÚzműiparral, a hagyomßnyos paraszti Útelekkel, a falusi-mez§vßrosi tßrsadalom Řnnepeivel, szokßsaival, lakßskult˙rßjßval, egyszˇval kulturßlis ÷r÷ksÚgŘnkkel ismerkedhetŘnk meg. HÚtvÚgÚken nÚpi iparművÚszek, kÚzművesek mestersÚgŘk fortÚlyaiba engednek bepillantßst, Ús szÝvesen tanÝtjßk is az Úrdekl§d§ket. A paraszti Řnnepek alkalmßval, azok szokßsait, hangulatßt is felidÚzik a szervez§k. Ilyenkor a lßtogatˇ nem csak passzÝv befogadˇja az esemÚnyeknek, hanem aktÝv rÚsztvev§je is. Ilyen alkalom pÚldßul a h˙svÚt, amikor kiprˇbßlhatjuk a tojßsdÝszÝtÚst, a patkolßst vagy batikolßst, kÚszÝthetŘnk cserÚpedÚnyt vagy gyertyßt, illetve megkˇstolhatjuk a h˙svÚt hagyomßnyos Úteleit is.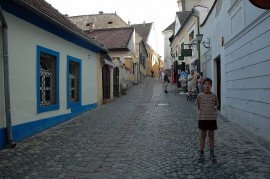 SzentendrÚn mindig t÷rtÚnik valami. Hagyomßnyosan megrendezÚsre kerŘl§ fesztivßlokon, nyßri estÚken szabadtÚri szÝnhßzi el§adßsokon, jazzesteken vehetnek rÚszt az ide lßtogatˇ turistßk Ús persze a szentendreiek. Mert nem lehet jˇ vendÚglßtˇ az, aki nem Úrzi jˇl magßt a sajßt otthonßban! A teljes Úvet ßtfogja a hßrom legjelent§sebb ÷sszművÚszeti fesztivßl: a Szentendrei Tavaszi Napok, a Szentendrei Nyßr Ús az Advent SzentendrÚn. De kihagyhatatlanok az Ister napok is; igazßn kŘl÷nleges ÚlmÚny az ilyenkor hagyomßnyos, kßprßzatos lßtvßnyt ny˙jtˇ lampionos dunai csˇnakfelvonulßs Ús gyertya˙sztatßs.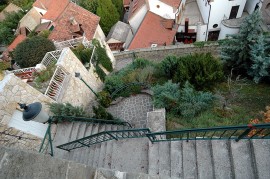 TegyŘnk egy sÚtßt az Ëvßrosban! A vßros f§terÚt nyßron is sokan megcsodßljßk. A helyiek azonban azt mondjßk, hogy igazi csoda lßtvßnyßban mÚgis azon kevesek rÚszesŘlnek, akik egy tÚli estÚn, friss hˇesÚs utßn lßthatjßk. A F§ tÚr k÷zepÚn ßll a Kalmßrkereszt, ami az 1763. Úvi pestisjßrvßnyban elhunytaknak ßllÝt emlÚket. A monda szerint az oszlop alß fejjel lefelÚ eltemettek egy pestisben elhunyt embert. A dimbes-dombos macskak÷ves utcßkon gyalog, vagy lovas hintˇra Řlve barangolhatjuk be a romantikus hangulat˙ belvßrost. A Duna-parti korzˇn sÚtßlva akßr hajˇkirßndulßsra is vßllalkozhatunk. A belvßrosban a fÚlszßz kisvendÚgl§ valamelyikÚben, cukrßszdßk, kßvÚzˇk hangulatos kerthelysÚgeiben pihenhet meg az utazˇ. A Borm˙zeum pincÚjÚben magyar borokat kˇstolhatunk. FeltÚtlenŘl nÚzzŘk meg az Ortodox pŘsp÷ki szÚkesegyhßzat, a Pozsarevacska-templomot Ús a Rˇmai katolikus plÚbßniatemplomot! Ha az utazˇnak szerencsÚje van, valamelyik rendezvÚnyen lßthatja a ma mßr szinte szßzf§s, rendkÝvŘl tehetsÚges Szentedre NÚptßncegyŘttes egyik fellÚpÚsÚt.
Ebben a bűbßjos kis vilßgban az ember elfeledkezik a mindennapok §rŘlt rohanßsßrˇl, megpihenhet Ús elvarßzsolˇdhat egy kicsit. Kßr, hogy a rohamos fejl§dÚs Ús a turistßk szßmßnak ugrßsszerű megn÷vekedÚse miatt olyan bosszantˇ aprˇsßgok, mint a zs˙foltsßg, vagy a parkolˇhißny kicsit kiz÷kkentik az embert ebb§l a romantikus andalgßsbˇl.
Tetszett a cikk? KŘldd el az ismer§s§dnek!
Hozzßszˇlok!