#4
London - What's the weather like today, Sir?
┌gy tartjßk, hogy az angolok kimÚrtek, tßvolsßgtartˇk, szÝnpadiasak, felszÝnesek, de roppant udvariasak. Ha erre gondolok, mindig egy kÚp villan fel el§ttem: elegßns londoni szalon, ÷t ˇra. KikemÚnyÝtett inggallÚr˙ urak szertartßsosan, arisztokratikusan kitartott kisujjal, kortyoljßk a tejes teßjukat, Ús k÷zben az id§jßrßsrˇl vagy a t§zsdeßrfolyamokrˇl tereferÚlnek Ús mÚly meghajlßssal Řdv÷zlik a terembe lÚp§ h÷lgyeket.

TÚny, hogy az angolok messze f÷ld÷n hÝresek az udvariassßgukrˇl. Vajon a londoniak semmit sem vßltoztak Dickens ˇta? TÚnyleg ennyire megk÷zelÝthetetlenek, ennyire finomkodˇk Ús unalmasak? Az angol szˇtßr XVIII. szßzadban Últ szerz§je Dr Johnson Ýrta: "Aki Londont unja, az magßt az Úletet unja, hiszen London mindent megad, amit az Úlet kÝnßlhat". (When a man is tired of London he is tired of life; for there is in London all that life can afford.).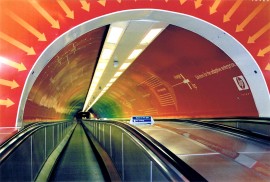 Valˇ igaz. Van egy tradicionßlis London, melyhez a szŘletett helyiek makacsul ragaszkodnak, csak ˙gy, mint a kemÚnysapkßs bobbykhoz, a black cab taxikhoz, a pirosra festett, dupla emeletes buszokhoz, a klasszikus telefonfŘlkÚikhez, a jobb oldalas autˇikhoz. Ez a hagyomßnytisztelet pedig egyŘtt Úl egy nyŘzsg§, szÝnes, eleven Londonnal, ahol szinte minden nap t÷rtÚnik valami: fesztivßlok, vilßghÝrű sztßrok koncertjei Ús a legkŘl÷nb÷z§bb stÝlus˙ művÚszek kißllÝtßsai vßltjßk egymßst. Minden nagyvilßgi, amit London ajßnl: a szÝnhßzak, musicalek, m˙zeumok, ßlomszÚp parkok, Ús a sok lßtnivalˇ. Szinte minden utcßhoz, ÚpŘlethez kapcsolˇdik egy-egy Úrdekes t÷rtÚnet a vßros t÷bb mint kÚtezer Úves m˙ltjßbˇl.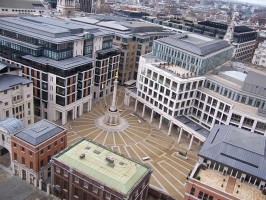 Mik÷zben a belvßros a metropolisz nyŘzsgÚsÚt kÝnßlja a lßtogatˇnak, a k÷zponttˇl nem messze az angol vidÚk nyugalmßt is megtalßlhatjuk a kŘlvßrosokban vagy a belvßrosi parkokban is. Ez a kett§ssÚg teljes termÚszetessÚgÚben megfÚr egymßs mellett. Csak˙gy, mint a felel§ssÚgtudat Ús lazasßg. Au-pair-kÚnt kint dolgozˇ barßtn§m mesÚlte, hogy az ÷tÚves kissrßc, akire vigyßzott, reggel kilenct§l dÚlutßn ÷tig az iskolßban volt. Minden sulinak sajßt egyenruhßja van, amit k÷telez§ hordani. A londoniak talßn mßr ezekkel az egyenruhßkkal magukba szÝvjßk a merevsÚget Ús megtanuljßk, hogy ÚrzÚseik csak azokra tartoznak, akikkel a szabadidejŘket egyŘtt t÷ltik. PÚldßul a parkokban. London szerte milliˇ park, kert talßlhatˇ, ezekben pedig mindig Řlnek, fekszenek, piknikeznek, olvasgatnak vagy Úpp rendezvÚnyt tartanak. Fiatalok, id§sek, egyenruhßs iskolßsok, meglazÝtott nyakkend§s ÷lt÷ny÷s÷k, barßtok Ús csalßdok egyarßnt. Itt k÷nnyen bekapcsolˇdhatunk a londoniak hÚtk÷znapjaiba. ╔s a turistßkkal is fantasztikusan bßnnak. TŘrelmesen vÚgighallgatjßk kusza mondataikat Ús kÚszsÚgesen segÝtenek. Ha lßtnak valakit gondterhelt arccal a tÚrkÚpe f÷lÚ g÷rnyedni, nem kell sokat vßri, valaki meg fogja kÚrdezni, miben segÝthet. Ha ennek az ellenkez§jÚvel talßlkozunk, biztosak lehetŘnk benne, hogy nem londoni. Nos, ez London mßsik arca.
Talßn csak Pßrizsban az Eiffel-torony k÷rnyÚkÚn lßtni annyi idegent, mint Londonban. Azzal a kŘl÷nbsÚggel, hogy mÝg Pßrizsban ordÝt rˇluk, hogy turistßk, Londonban helyiek. London a nemzetek olvasztˇtÚgelye, a vilßg minden tßjßrˇl betelepŘlt nemzetisÚgek sokszÝnűsÚgÚvel talßlkozunk lÚpten nyomon. Pakisztßni az ˙jsßgßrus, t÷r÷k a taxis, kÝnai, vagy afrikai a pizza futßr Ús sorolhatnßnk napestig.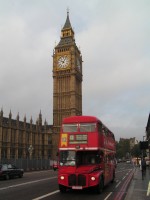 Klasszikus London k÷zlekedÚse is. Csak a nagyon bßtraknak ajßnljuk, hogy autˇba Řljenek, mert a jobb kezes rendszer nem egyszerű, bßr kalandnak nagyszerű. A londoniak tÚnyleg roppant el§zÚkenyek, segÝtenek a tßjÚkozˇdßsban, Ús a rend§r sem bŘntet, ha rossz sßvba kanyarodunk, de szßmos egyszerűbb megoldßs is lÚtezik. Taxi van b§ven, Londonban mintegy h˙szezer taxisof§r dolgozik hivatalosan. A f÷ld alatti k÷zlekedÚs is logikus, annak ellenÚre, hogy nagyjßbˇl 12 metrˇvonal van. A megßllˇk mind Úrthet§en kitßblßzottak, megtalßlhatˇak a metrˇßllomßsok nevei, az ßtszßllßsi lehet§sÚgek, illetve a zˇnßk hatßrai. Az igaz, hogy nem ßrt mßr az elejÚn beszerezni egy ingyenes metro tÚrkÚpet, az sokat segÝt az eligazodßsban.
A mozgˇlÚpcs§k÷n mindenki betartja, hogy a jobb oldalon k÷zlekedik, utat biztosÝtva a siet§knek…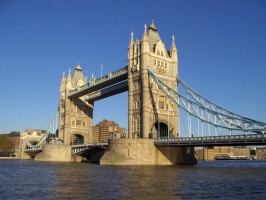 S ha mßr jˇl elboldogulunk a f÷ld alatt, nyakunka vehetjŘk a f÷ld feletti vilßgot. Vannak amolyan "k÷telez§" lßtnivalˇk, amiket azonban nem szabad kihagyni. Ilyen a Buckingham Palota, ami 1803 ˇta a kirßlyi csalßd otthona. A palota el§tti §rsÚgvßltßs igazi turistacsalogatˇ lßtvßnyossßg, ezÚrt ha lßtni is akarjuk, Úrdemes jˇval hamarabb odameni. Temze partjßn ßll a Parlament, hÝres ˇratornyßval, a Big Ben-nel. A Parlament ŘlÚseit bßrki, ingyen lßtogathatja... A Westminster apßtsßgot sem szabad kihagyni. Ez a templom a mai napig a kirßlyi csalßd koronßzßsi Ús nyughelye is. William Shakespeare sÝrja is itt talßlhatˇ. Ha pihentet§, ßm lßtvßnyos programra vßgyunk Úrdemes vÚgigjßrni a Madam Tussaud Panoptikumot. Madam Tussaud Franciaorszßgban kÚszÝtette el a guillotine ßldozatainak halotti maszkjßt, majd amikor Anglißba k÷lt÷z÷tt, galÚrißjßt nyitott. Ma mßr f§leg szÝnÚszek, Únekesek, politikusok viaszszobrai csodßlhatˇk meg benne.
A London Eye-ra, az egyik leg˙jabb nevezetessÚge a vßrosnak, melyr§l gy÷ny÷rű k÷rpanorßma tßrul elÚnk. Nem csak a leg˙jabb de a leglßtogatottabb is, Ýgy tanßcsos rß el§re jegyet foglalni.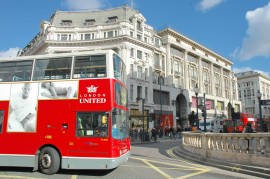 A belvßrosban szßmos pubot, Úttermet talßlhatunk. NÚmelyik kifejezetten a turistßk szßmßra ÚpŘlt. Az Oxford Street a vßsßrlßs k÷zpontja. A legdrßgßbb, legelitebb holmiktˇl az olcsˇ turkßlˇkig mindent megtalßlhatunk a k÷rnyÚken. A shoppingolˇknak k÷telez§ betÚrni a Harrods-ba vagy a Selfridges-be, de klasszikusak a bolhapiacok, mint a Portobello Road vagy Camden Lock. Londonban szßmos nagy m˙lt˙ Řzletet talßlunk. Bßr ezek t÷bbsÚgÚt csak kevesek engedhetik meg maguknak, Úrdemes nÚhßnyba betÚrni sÚtßlßs k÷zben, ha mßsÚrt nem, a kedves kiszolgßlßst, sok Úvszßzados szakÚrtelmet Ús elegancißt megcsodßlni. A Jermyn Street egyik legrÚgebbi Řzlete az 1797 ˇta műk÷d§ Paxton & Whitfield sajtbolt. Nem messze talßlhatˇ innen a majd 200 Úve műk÷d§ Berry Brothers & Rudd borkereskedÚs, ahol majdnem 216 ezer Řveg bort ßrusÝtanak, s itt lßthatˇ az a b§rk÷tÚses k÷nyv is, amelyben rÚgen a s˙lyukÚrt aggˇdˇ hÝressÚgek (Byron, Nelson, Wellington) adatait r÷gzÝtettÚk. Az Řzlet pincÚjÚben az 1830-as Úvekben III. Napˇleon tßrolta t÷bb szßz kißltvßnyßt. A 9-es szßm alatt talßlhatˇ Lock & Company 1759-t§l kÚszÝt itt kalapokat, kalapboltkÚnt pedig mßr 1676 ˇta műk÷dik az Řzlet. Egyik nevezetessÚge, hogy itt kÚszÝtettÚk az els§ kemÚnykalapot. A 6. szßm alatt műk÷d§ John Lobb csizmakÚszÝt§ boltja egyike a vilßg legszebb rÚgi Řzleteinek, ahol ma is kÚzzel kÚszÝtik a lßbbeliket. A vilßg leghÝresebb sÚtapßlca Ús eserny§ boltja, az 1830-ban nyÝlt James Smith & Sons is a k÷rnyÚken talßlhatˇ. Aki szereti a teßt, az ne mulassza el a Strand 216 alatti Twinings teaboltot.
Az Újszakai Úlet zajos szÝntere a Soho Ús a Covent Garden. Egymßst Úrik a diszkˇk, kocsmßk, mulatˇk. A Covent Gardenben rendszeresek az ingyenes operai rÚszletek, szÝnhßzi jelenetek Ús egyÚb szˇrakoztatˇ el§adßsok.

Ahhoz, hogy minden lßtnivalˇt, nevezetes ÚpŘletet, hidat Ús m˙zeumot vÚgig tudjunk jßrni, egy hÚt is kevÚs. ╔s akkor mÚg nem is beszÚltŘnk a parkokrˇl, szˇrakozˇhelyekr§l, pubokrˇl. ╔rdemes ezÚrt szelektßlni, Úrdekl§dÚsi k÷r szerint. HiggyÚk el, ez nem bűn, de segÝt abban, hogy mindenki megtalßlja Ús felfedezze a maga Londonßt.
Tetszett a cikk? KŘldd el az ismer§s§dnek!
Hozzßszˇlok!