#19
Malbork, a vöröstéglás lovagvár
A Német Lovagrendet Mazóviai Konrád lengyel fejedelem hívta be Lengyelországba, hogy védjék meg földjeit a pogány balti poroszok támadásaitól, és hódítsák meg azok területét. A teuton lovagok a hittérítés zászlaja alatt a 13. század elején indították el első hadjáratukat, hogy leigázzák a poroszokat.

A lovagok a Nogat folyó menti vidéket alkalmasnak találták arra, hogy táborhelyüket felépítsék. A kiváló adottságokkal rendelkező területen az évszázad vége felé kezdték el felépíteni kastélyukat, amelyet Marienburgnak vagyis Mária várának neveztek el.

A keresztesek vöröstéglás, masszív falaival és bástyáival ékes, monumentális vára nagy hatással van a látogatókra. Ez nem is csoda, hiszen a 20 hektáron elterülő építmény nemcsak a lovagrend székhelye és legfontosabb erődítménye volt, de ez egyben Európa legnagyobb gótikus vára is. A malborki lovagvárat az UNESCO 2000-ben vette fel a Kulturális Világörökségek listájára.

Az építkezés 1280-as években kezdődött és alig 30 év alatt sikerült felépíteniük egy négyszögű kolostort kápolnával, káptalanházzal, dormitóriummal (hálóterem), refektóriummal (ebédlő) és elkészült a zárt udvar is. Az erőd délnyugati sarkától a Danske-toronyig egy hosszú, magas galériát építettek, amely kimondottan védelmi célokat szolgált.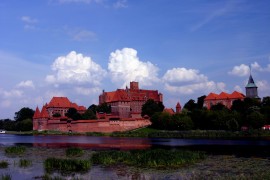 Siegfried von Feuchtwangen nagymester 1309. szeptember 14-én döntött úgy, hogy a lovagrend székhelyét Marienburgba helyezi át. Azonban rövidesen kiderült, hogy meglévő formájában az épület alkalmatlan erre az új szerepre. Ezért egy újabb, nagyszabású építkezés vette kezdetét, mely közel 40 évig tartott. Ez idő alatt a kolostort átalakították egy árkokkal és vastag falakkal többszörösen körülvett erődítménnyé, amelyet "felső vár"-nak neveztek. A központi helyen lévő Miasszonyunk templomát is megnagyobbították, valamint felépítették a Szent Anna-kápolnát, amely a nagymesterek temetkezési helye lett.
Az erőd védett, középső helyén alakították ki a "középső kastély"-t, mely az idelátogató lovagok szálláshelyeként funkcionált. Itt kapott helyet a nagymesteri palota, a nagy ebédlő, és az ispotály is. Az "alsó kastély" a 14. század végén, 15. század elején nyerte el végleges formáját. Itt helyezték el a fegyverraktárt, a magtárat és a különféle kiszolgáló épületeket: az istállókat, a sörfőzdét. A szolgáknak külön kápolnát építettek az alsó vár tövében.

A tizenhárom éves háború idején a lovagrend pénzszűkébe került, így elzálogosította a kastélyt zsoldosainak, akik azon nyomban eladták az erődöt a lengyel királynak. Ezennel megkezdődőtt a lovagvár viszontagságos át- és visszaépítési tortúrája. Először is a felső várat átalakították élelmiszerraktárnak, a középső kastélyt szálláshelynek, a külső várat pedig kizárólag katonai célra használták. A kastély fenntartása óriási összegeket emésztett fel és szinte sosem volt elegendő pénz a karbantartásra. A helyzetet tovább nehezítette az 1664-es tűzvész, mely hatalmas károkat okozott. A leégett középkori fedett galériát ugyan hamar újjáépítették, de az eredetitől nagyon eltérő barokk stílusban.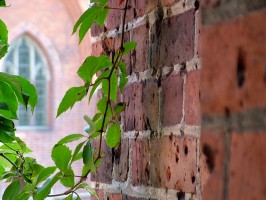 A kastély a jezsuita rend gondozásában állt 1652 és 1772 között, akik egy kollégiumot építettek a Miasszonyunk Temploma és a középső kastély közé. Majd a porosz csapatok fennhatósága alá került az erőd, akik a középső kastély refektóriumát lovas iskolává alakították át. Ez az időszak egy húszévnyi folyamatos építés és bontás kezdetét jelentette, mely sajnos radikálisan megváltoztatta a kastélyt. A felső kastély katonai raktárrá "változott", szinte az összes középkori ablakot befalazták és újakat raktak be.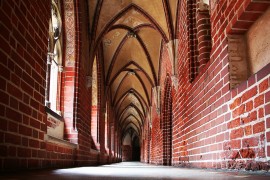 Max von Schenkendorf a fiatal romantikus költő, tiltakozó cikket jelentetett meg 1803-ban egy berlini újságban a kastély rombolása ellen. Eredményeképp a kormány is a mozgalom mellé állt. Miután a napóleoni csapatok visszavonultak Marienburgból, elkezdődött a kastély helyreállítása. A munka a keleti szárny újjáépítésével kezdődött. A rekonstrukciót August Gersdorff építész vezette, a kor neves szakemberei segítségével: a híres festő és építész Karl Friedrich Schinkel, a történész Johannes Voigt és a Német Lovagrend-szakértő lelkész Ludwig Häbler is oroszlánrészt vállalt a munkákban.
1882-ben a felső kastélybeli Boldogságos Szűz Mária templomának rekonstruálása is megkezdődött, Conrad Steinbrecht tervei nyomán. A mottója "egy lépést sem tenni, ha az nem igazodik a történelmi szellemhez" volt. 1900-ra a felső kastély, 1918-ra pedig a középső kastély helyreállítási munkálatai is befejeződtek. A Szent Katalin-kápolna 1922-re, az új kapu pedig 1931-ben készült el. A kastélyt neogótikus bútorokkal rendezték be és múzeumként megnyitották a látogatók előtt.

A második világháború alatt a refektórium volt a színhelye a Hitlerjugend eskütételi ceremóniáinak. Sajnos 1945-ben a kastély súlyos károkat szenvedett. A kastély restaurálására 1957 júniuásban bizottságot hoztak létre.

Malbork nem csupán építészeti különlegesség, hatalmas termeiben gazdag múzeumi gyűjteményeket is kínál. Borostyán-kiállítása és fegyvergyűjteménye messze földön híres.

Tetszett a cikk? Küldd el az ismerősődnek!
Hozzászólok!