#4
Chichén Itza, a megfejthetetlen maja misztérium
Chichén Itza a legismertebb maja város. Éles kettősség jellemzi. Egyrészt a festői rengetegben megbújó romváros az évezredes maja civilizáció dicsőségét hirdeti, másrészt kevés ennél vérfagyasztóbb hely létezik a világon. Az építészeti mesterremekek egykor különösen kegyetlen emberáldozatok színhelyei voltak.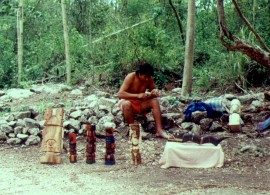 Közép-Amerikában, a Yucatán-félsziget csücskében, a dzsungel közepén elterülő síkság templomvárosa a maja civilizáció legnagyobb politikai és gazdasági központja volt. A történészek szerint a maja-tolték birodalom egyik legfontosabb fennmaradt építészeti együttese található itt. Quetzalcóatl, a toltékok királya 987 körül tette - maja szövetségesei segítségével - Chichén Itzát birodalma fővárosává. A települést, melyet már akkor is így hívtak, eredetileg maják lakták, a toltékok csak később érkeztek ide, ezért az épületek mindkét kultúra nyomait magukon viselik.
"Chichén Itza" annyit tesz, "az itzai kút kávájánál". Az elnevezés is megerősíti a már bizonyított tényt, hogy a félszigeten élő népek folyó híján a természetes víznyelő aknákból (ún. cenotesekből) nyerték a friss vizet. Chichén Itza is három ilyen képződménynek köszönhette létét. Ezek a gigantikus földalatti barlangok nemcsak az éltető vizet adták az itt élő törzseknek, de vallási szerepet is betöltöttek. Napjainkban két cenotes maradványai még megtalálhatók a romvárosban. A híresebb az Áldozat kútja, ahol a nagy szárazság idején a maja esőistennek, Chac-nak mutattak be áldozatokat - nem ritkán a törzs legszebb fiatal lányai estek a rítus és a vallás vértanúivá. A város alatt futó smaragdzöld színű folyó egy kráter mentén válik láthatóvá a telep közepén. A Szent kútnak is titulált cenotes-t mágikus erővel ruházták fel. Vizét szentként tisztelték, senki nem merte háborgatni; áldozatképp tömérdek aranyat és ezüstöt szórtak a mélyére. A kincsek a mai napig ott pihennek a kút alján. Kutatók szerint károsodás nélkül nem is lehet a felszínre hozni őket.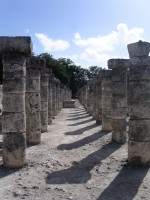 Chiczén Itza városához majd' 600 épület, templom és több labdapálya is tartozott. Manapság a romok egy részét még mindig a dzsungel rejti, helyreállításuk jelenleg is tart. Mivel az ősi indián civilizációkról írásos emlékek nem szólnak, csak építményeik, szobraik és használati tárgyaik maradtak fenn; a kutatók kénytelenek ezekből a relikviákból megfejteni többek között a maják és a toltékok titkait. A régészek és a történészek mindmáig csak találgatnak, vajon hogyan építették fel a várost a sűrű dzsungel közepén, és honnan szerezték, de legfőképpen: hogyan szállították ide a rengeteg követ?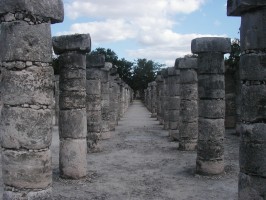 A romváros legimpozánsabb épülete a spanyol hódítók által "El Castillo" (a kastély) néven emlegetett főpiramis. Kukulkán, a tollas kígyóisten tiszteletére emelt piramis az eddig legszebben restaurált maja építmény. A páratlan épület a település középpontjában áll, a város többi pazar kőépülete fölé magasodó hatalmas kőtemplom a környék minden pontjáról jól látható. Négy oldalán négy igencsak meredek lépcsősor vezet fel a kis termeket rejtő kőtemplomhoz, azaz a szentélyhez, ahol a legyőzött ellenségek fölött mutattak be véres győzelmi áldozatot. A lépcső aljánál a két tátott szájú kígyófej a feltételezések szerint magát Kukulkánt formálja meg. A mintegy 55 méter magas piramis a maja naptár szimbóluma alapján épült. Kilenc fokozata (terasza) van, ez a maja hitvilágban a halál kilenc bugyrát szimbolizálta. A lépcsősorok mindegyikének 91 lépcsője van, és ha a főbejárat nagy lépcsőjét is beleszámítjuk, a 365-ös számot kapjuk, azaz az év napjainak számát. (Ezek a lépcsők egyébként meglehetősen kényelmetlenek, a fokok magassága nagyobb, mint a szélessége, ezért megmászni sem könnyű őket.) Szakértők szerint ez azt bizonyítja, hogy a maják igen fejlett asztronómiai tudással bírtak. Kimagasló építészeti tudományukat pedig mi sem támasztja alá jobban, mint az, hogy minden napéjegyenlőségkor a lenyugvó nap utolsó fényei egy tekergőző kígyó, a tollas kígyó árnyékát festik a piramis lépcsőire.
A főpiramis belseje egy kisebb piramist rejt. Igen szűk résen lehet bemászni, aztán fülledt, nedves levegő fogad és egy roppant keskeny folyosón felkapaszkodhatunk a piramis egyharmadáig. Ez a kisebb piramis, a Vörös Jaguár temploma. A régészek itt találták meg Kukulkán jaguár trónját, azaz a főpapi trónt. A feltételezések szerint míg a külső piramis a 365 napból álló évet szimbolizálja, addig a kisebb piramis szerkezete a holdnaptárat jeleníti meg.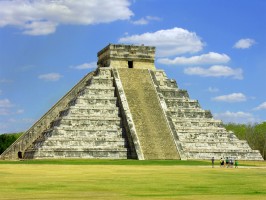 Vitathatatlan, hogy a piramist elsősorban vallási célzattal építették, de vajon használták egyéb tevékenységre is? Nemrég nagy visszhangot keltett egy új feltételezés a témával kapcsolatban. David Lubman, a Kalifornia Egyetem hangtani mérnöke szerint az ősi maja piramisok lehettek az első szabadtéri "zenei színpadok", amelyeket úgy építettek, hogy bizonyos akusztikai igényeknek megfeleljenek. Lubman bebizonyította, hogy ezeknél a "szabadtéri színpadoknál" olyan visszhangjelenségek figyelhetők meg, amelyek a maják szent madarának, a quetzalnak rikoltására hasonlítanak.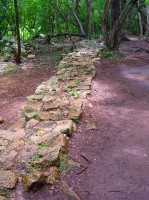 Az idegenvezetők már régóta ejtik ámulatba a turistákat azzal, hogy két követ összeütnek: a visszhang pedig sosem marad el. Egy ősi indián legenda szerint a maják tudatosan építették piramisaikat úgy, hogy hátborzongató hanghatásokat keltsenek. Mostanáig azonban a kutatók figyelmen kívül hagyták a mítoszt. Lubman e visszhang keletkezésének fizikai magyarázatát a lépcső meredekségének, a lépcsőfokok magasságának és a járólapok szélességének arányában határozta meg. Másrészt a maja művészetben a Kukulkánt gyakran ábrázolták egy nagy quetzal társaságában. Ezért Lubman egyáltalán nem lepődött meg, mikor a piramisnál felvett visszhang és a madár hangja között valóban sok, akusztikailag mérhető hasonlóságot tapasztalt (Acoustical Society of America).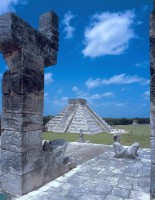 A piramis a piramisban mellett megcsodálhatjuk a latin-amerikai világ legnagyobb eddig felfedezett pelotpályáját. A 90 m hosszú pályán 7-7 játékos a labdát derékkal, vállal és lábbal rugdosta, passzolgatta, de a játék pontos szabályai mindmáig ismeretlenek. Annyi azonban bizonyos, hogy vallási momentumokat magába foglaló sportról van szó. A főpiramistól jobbra rengeteg, mintegy két és fél méteres, négyszögletes oszlop fogadja a látogatókat. Ez az "Ezer oszlop csoportosulása". Az oszlopok többségét harcosok reliefjei díszítik. Mellettük áll a Harcosok temploma, melyet belülről senki sem csodálhat meg. Mindenképpen meg kell említeni a maja város legbizarrabb épületét, a Tzompantlit. Valójában egy egy méter magas, tizenegynéhány méter hosszú és széles épületről van szó, amely emberáldozatok bemutatására szolgált. A maják halottkultusza elég rémisztő; a koponyák ábrázolásától sem riadtak vissza. Sőt, az alapzat egész külső falát ezernyi kőkoponyával fedték le, ami mellett nap mint nap elhaladtak. Ez náluk a mindennapi élet része volt. Semmi különös. Csak mi tartjuk vérfagyasztónak és elborzasztónak.
Hogy pontosan mikor és hogyan tűntek el Chichén Itza lakói, arról források hiányában csak találgatnak a tudósok. Ugyan maradtak fenn maja feljegyzések arról, hogy 1221-ben polgárháború tört ki a félszigeten. A jelenleg is a restaurálással foglakozó régészek a leletekből arra következtetnek, hogy valószínűleg nem békés körülmények közt szűnt meg birodalmi központ lenni az 1988-ban a világörökség részének nyilvánított város.

Tetszett a cikk? Küldd el az ismerősődnek!
Hozzászólok!