#11
Angkor - romváros a dzsungel mélyén
Angkor Délkelet-Ázsia gyöngyszeme, a mai Kambodzsa északnyugati részén, Sziemreap városától 6 km-re található. Aki látta ezt a hatalmas templomegyüttest, teljességgel hatása alá került. Angkor tulajdonképpen nem is templom, inkább a sok-sok templomot körülvevõ hatalmas város, amely az évszázadok során terjeszkedett, központi részei vándoroltak, így a ma látható templomok más-más évszázadokban voltak a terület központjai.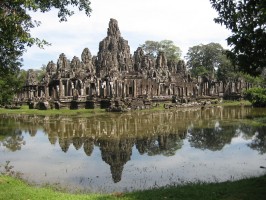 Angkor több száz kisebb-nagyobb építménybõl áll elég nagy területen szétszórva a dzsungel közepén. A város virágkorát a Khmer birodalom csúcspontján, a 9-13. század folyamán élte. A 12. században közel 1 millió lakosa volt. (Csak összehasonlításképp: ebben az idõben Londonban mintegy 50 ezren laktak.) A Khmer birodalom hatalmas gazdagságot halmozott fel. Ennek alapját a rizstermesztés és a szerencsés tengeri kereskedelem hozta létre. Hatására Angkorban hatalmas építkezések kezdõdtek. Lakó- és középületeket, szentélyeket, utakat, hidakat, több négyzetkilométer nagyságú víztározókat építettek a város ellátására. A birodalom hanyatlásával a település fokozatosan elvesztette jelentõségét. Mivel a környezõ földek is terméketlenné váltak, így a város hamar elnéptelenedett. Az utolsó lakosok a 15-16. században hagyták el a romokat, amelyeket aztán lassan benõtt és maga alá temetett a dzsungel. A romok a 19. század második felében kerültek reflektorfénybe, mikor a francia régész, Henri Mahout rátalált a dzsungel mélyén rejtõzõ csodára. Sajnos ezzel meg is kezdõdött Angkor kifosztása.
A romváros mûemlékei közül két templomegyüttes emelkedik ki: az Angkor Vat, amelyet a 12. században II. Szurjavarman, valamint az Angkor Thom, amelyet 1200 körül VII. Dzsajavarman király építtetett.

Angkor Vat feltehetõen 1113 és 1150 között épült. Egyes épületei a körülöttünk lévõ univerzumot jelképezik. A középpontban a szent Meru-hegyet megtestesítõ torony áll, az épületek és udvarok az óceánokat és kontinenseket jelképezik. Az eredmény nem csak méreteiben és bonyolultságában fantasztikus, de díszítettsége is egyedülálló.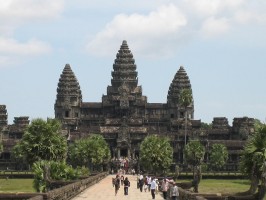 A háromszintes építményben, a lépcsõk extrém meredekek, rengeteg a torony, minden tornyon négy vidám faragott arc – összesen 216 -, ami kõbe vésetten szimbolizálja, hogy az uralkodó mindenhol ott van és mindent lát. A homokkõbõl épített Angkor Vat minden szintjén medencéket találunk. Funkciója szerint a hívõk mártóztak meg bennük az istentisztelet elõtt. A vizet felpumpálták ide és agyaggal szigetelték le a kiásott mélyedéseket, hogy ne csorogjon le a víz a kõrétegek között. A fõbejárathoz több kilométer hosszú, nyílegyenes, ceremoniális úton juthatunk el. A töltések, töltéshíd, vizes árkok, lépcsõsorok, medencék, az állat alakú szobrok, az õrtornyok, majd a hatalmas lótuszbimbó formájú tornyok, a kerengõk mind egy központi gondolatot szolgálnak: az istenek lakóhelyére tartunk! A felvezetéshez képest a végsõ cél egy meglepõen kicsi, de annál nagyobb becsben tartott szentély. A templomcsoport falain és dombormûvein a hindu mitológia történései elevenednek meg: Istenábrázolások, a hindu hõseposz, a Mahabhárata, illetve a Rámájána csatái, oroszlán- és állatfaragványok és apszara-táncosok képei láthatók mindenfelé. A gyéren megvilágított kerengõ falrészei az év más és más szakában kapnak erõs természetes fényt. A körbejárási irányból a templomegyüttes nyugati tájolásából arra következtettek a régészek és történészek, hogy ez a templomrész periodikusan lejátszódó szertartások színhelye lehetett. Az óramutató irányával ellentétes haladás a temetkezési helyek hindu szertartásrendjét jelöli, ami arra utal, hogy Angkor Vat valóban II. Szúrjavaman mauzóleuma lehetett.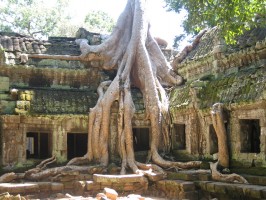 A khmerek vallása az õsök kultuszából nõtt ki: bálványisteneik számára szentélyeket emeltek, áldozatokat mutattak be nekik. Késõbb, ahogy a birodalom terjeszkedni kezdett világszemléletük is szélesedett. Az Indiából érkezõ vagy az Indiát megjárt papok révén átvették a hindu istenhármasság (Brahma, Siva és Visnu) tiszteletét és a hinduk gazdag hitvilágát. Különösen kedvelték Sivát, a teremtõ és pusztító istent. Szúrja, a napisten, Agni, a tûzisten, az elefántfejû Ganésa és Visnu tisztelete jól megfért a helyi bálványimádatukkal.
Késõbb Buddha tanait is elsajátították és sajátosan ötvözték meglévõ istenhitükkel. A buddhizmus a XII. sz. elején vált Angkorban államvallássá. Ekkor tömegében elkezdõdött a kolostorok építése is. Tisztán buddhista építészeti alkotás a Bajon-templom, melyet VII. Dzsajavarman épített központi templomként, amikor a város többé-kevésbé végleges formáját kialakította. Az õ uralkodásától kezdve a várost Angkor Thomnak, Nagy Fõvárosnak nevezték. A XIII. század nagy utazója, Csou Te-kuan feljegyzéseibõl kiderült, hogy a kolostorok a khmer elõkelõ gyermekek oktatásának színhelyei voltak. Szintén az õ írásaiból tudható, hogy a templomváros gazdag életet élt, melyet felvonulások, körmenetek, áldozatbemutatások tettek még színesebbé. A következõ leírás, amely megörökítette Angkort az utókornak, a XVI. századból származik. Ekkor már elhagyatott, városról számolnak be az utazók, a régi templomok maradványait benõtte az õserdõ. A város elnéptelenedésekor szerzetesek vették birtokba az épületeket, és amennyire lehetett, próbálták óvni a természet erõitõl.
A XX. sz. második felének politikai és katonai zûrzavarai idején Angkor templomai súlyos károkat szenvedtek, és fokozódtak a fosztogatások is. A legnagyobb gondot azonban az elhanyagoltság jelentette. Szerencsére mára a terület nagy részét sikerült megmenteni, a helyreállító és feltáró munkák folyamatosan zajlanak. Az ide sereglõ turisták jelentõs bevételeket biztosítanak az államnak, amely a befolyt összegekbõl tudja finanszírozni a romváros további feltárását és a környék fejlesztését.
Tetszett a cikk? Küldd el az ismerõsõdnek!
Hozzászólok!